| | | |
| --- | --- | --- |
| | Lumber & Veneer Choices | |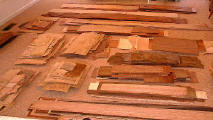 As shown on the left and described below, I keep an inventory of several thousand board feet of solid lumber and hundreds of square feet of premium veneer. During the design phase of a furniture or cabinetry project, clients are encouraged to visit the shop so they can view this material in person. Since mass-produced furniture uses only a fraction of these species, my customers are pleasantly surprised to view the broad "palette" of wood species that can be incorporated into their commissioned piece. Read further to see your options.
Solid Lumber
All of my furniture and cabinet projects utilize solid lumber for the majority of their construction. Sheet goods and other engineered lumber products are used to address certain structural challenges and for internal elements of some casegoods. Solid lumber can generally be divided into categories including domestic, imported/exotic, and domestic exotics, which are hard-to-find variations of domestic species. Details are shown below.
Domestic Species
You can select from the following North American lumber species:
Alder
Beech
Birch
Aromatic Cedar
Western Red Cedar
Cherry
Eastern White Pine
Hickory
Maple
Redwood
Red Oak
White Oak
Pecan
Poplar
Walnut
To create heirloom quality furniture from many of these species (the ones highlighted in red text on this page), I personally harvest this lumber using a portable sawmill, as highlighted on the Custom Sawmilling page. As shown there (and in the photo on the right), by taking care to bookmatch and color-match this lumber, I can achieve even more beauty from these traditional American wood species.
Domestic "Exotic" Species
Although still harvested from North American trees, there are a number of types of "specialty" lumber that are commonly used in high-end furniture. In many cases, this type of wood is used to produce veneer to maximize it's value, but it can be obtained in solid lumber form as well. Species from the first group shown below are frequently requested for us in traditional, formal furniture pieces due to their historical precedence, exceptional beauty, and rarity:
Curly Cherry
Curly Maple
Birdseye Maple
Quilted Maple
Quartersawn White Oak
Walnut Burl
Walnut Crotch
Another group of domestic exotic species, which are experiencing greater demand in recent years, fall into what I call the "rustic lumber" category. I use this descriptive term because of their distressed nature and the rustic, unrefined appearance of the furniture they produce. Surprisingly enough, when used as an accent wood, this lumber can actually create a very sophisticated look. This group includes:
Knotty Alder
Wormy Chestnut
Ambrosia Maple
Spalted Maple
Spalted Pecan
Reclaimed Heart Pine
Imported "Exotic" Species
Premium lumber imported from around the world can be used to create stunning furniture. Although usually expensive, the final results make it well worth considering the use of these materials. Some of these species are so dramatic in appearance, they are often best used as an accent wood in larger pieces. These woods also look fantastic when used in decorative boxes. Here are some of the more commonly used varieties:
Bubinga
Cocobolo
Ebony
Ipe (Brazilian Walnut)
Jatoba (Brazilian Cherry)
Lacewood
Black Limba
Mahogany
Padauk
Purpleheart
Teak
Wenge
Zebrawood
New species of imported lumber are always becoming available. If you don't see what you are looking for, please do not hesitate to contact me.
Veneer
During the 18th and 19th centuries, only the most affluent customers could afford to pay master woodworkers to do veneering, marquetry and inlay work, thus creating classical pieces of furniture that were true heirlooms. French renaissance furniture made extensive use of veneer work and still stands as some of the best examples of this art form. Over the last century, what used to be the mark of ultra-high-end furniture (veneering and marquetry) has now become a common indicator of low-end, "disposable furniture". Mass-produced furniture manufacturers have exploited modern machinery and veneering technology to increase profits. This negative perception has only been worsened by the ability to create synthetic veneer, which is nothing more than a photographic representation of a real wood grain captured in a textured plastic film that is overlaid on a poor quality particle-board substrate. It's no wonder that the novice furniture and cabinetry buyer will often cringe when the term veneer is used, and in most cases they are justified in doing so.
Nevertheless, in the realm of high-end custom furniture and cabinetry, there are still a number of reasons for the discriminating buyer to select veneered components in their commissioned pieces.
The very high end of the furniture market still employs the use of mixed veneer species and marquetry work as a fundamental design technique. It's comforting to know that this ever-diminishing skill is still employed in some places.

The increasing rarity of some wood species forces the ecologically-minded furniture builder (I place myself in this category) to seek a higher yield from scarce natural resources. Birds-eye maple, Brazilian rosewood, and premium grades of mahogany are now efficiently sliced into veneers so that no material is wasted. In veneer production, none of the wood fiber is turned into saw dust – veneer is sequentially sliced off (like pieces of cheese) so that 100% of these high value logs are utilized. When these materials are laid up on a high quality, dimensionally stable substrate, I can help the customer obtain the beauty from these prized species while still preserving a limited resource.

Custom cabinetry will often use veneered plywood for the cabinet boxes to provided added strength, dimensional stability, and to limit the amount of raw materials consumed by a cabinet project. In these situations, premium veneered plywood with plain-sliced, slip-matched veneer is used to insure that these man-made materials appear to be solid wood construction and match the other solid lumber used in elements such as cabinet doors, drawer front, and molding.

If sawn into solid lumber and then dried, certain highly-figured grain patterns such as crotch wood and burls will typically disintegrate. By slicing this material into thin veneers and then carefully drying it, the beauty of these portions of the tree can be safely utilized.

Some unique wood grain signatures can only be achieved in veneer form due to the manner in which some veneer logs are processed. Rotary sliced veneer, which is literally "spooled" off a veneer log like a roll of paper towels, can produce some truly wild grain patterns. Quilted waterfall bubinga is one of my personal favorites and this grain pattern can only be achieved in veneer since solid lumber could not be harvested in the same fashion. When carefully finished with penetrating oils and a gloss finish, this type of bubinga veneer has a spectacular undulating 3-D appearance with a dark burgundy color. Check out this Coffee Table made with this unique veneer.
Here are many, but certainly not all, of the veneer species that can be incorporated into your custom furniture or cabinetry project (with some sample photos shown on the right):
Afrormosia
Anigre
Figured ash
Masur birch burl
Quilted waterfall bubinga (see photo on right, top)
Chestnut burl
Macassar ebony
Carpathian elm burl
Beeswing eucalyptus
Imbuya
Lacewood
Madrone burl
Ribbon-stripe mahogany
Mahogany crotch (see photo on right, bottom)
Block mottle makore
Birdseye maple
Curly maple
Quilted maple
Spalted maple (see photo on right, middle)
Maple burl
Mappa burl
Myrtle burl
English brown oak burl
Olive ash burl
Redwood burl
Brazilian rosewood
Santos rosewood
Sapele
Sapele pommele
Satinwood
Tigerwood
Curly walnut
Walnut burl
Birdseye walnut
Figured Australian walnut
Zebrawood