| | | |
| --- | --- | --- |
| | Custom Sawmilling | |
When discussing this aspect of my business, the most frequently asked question from both customers and competitors alike is:
" Why bother to saw your own lumber from logs?? "
The information presented below explains the reasons I have tackled this challenging task, and should help you to become a better educated furniture buyer/collector. If you don't have the time to review this information right away, at least pay a visit to the Sawmilling Gallery for some great photos of one-of-a-kind lumber you will not find anywhere else!!

From the first time I saw a portable sawmill in action, my "inner child" instantly knew that I just had to have one!! These monsters have more horsepower, make more noise, create more dust, and do more in a single step to change the nature of wood than any other tool you'll find - big toys for big boys, as the saying goes...
On a far more serious note, I actually spent several years determining that there are a number of very important reasons, both for my woodworking business and for the discerning furniture buyer, to obtain quality lumber in a very non-traditional fashion.
Custom Furniture Demands Custom Lumber
Just as a gourmet chef starts from "scratch" with raw ingredients so as to have absolute control over the final outcome of a recipe, the same can be said for creating top-of-the-line furniture. Far better results in furniture-making can be obtained when you have control over the method in which a log is sawn, the manner and rate at which the lumber is dried, and the selection of specific boards for a particular project. When you consider museum quality furniture pieces made generations ago, the lumber was obtained in exactly this fashion and contributed significantly to the consistent appearance of the grain pattern, ability to accept stains/finishes, and the way in which this wood would change color as it aged.
Unfortunately, when buying lumber commercially today, it's nearly impossible to find boards that actually came from the same log, let alone pairs or groups of boards cut sequentially from the same log. Primarily this is due to the scale on which lumber is produced and the need to eliminate labor and reduce cost. Log sections which are cut from the same tree are graded for size and defects and then separated. Then, as boards are cut from each log, they are immediately graded for quality and divided into separate groups (first and seconds, number one common, number two common, etc.). After being kiln dried, the lumber is graded again to compensate for defects that result from modern high-speed drying techniques. At each of these stages, the likelihood of boards from the same tree/log remaining together becomes more and more diminished.
This problem can be eliminated by taking the time, and significant effort, to saw the lumber and dry it in a slow, controlled fashion. Specific benefits include:
During the sawing process, I'm able to control the way the log is cut, which allows me to produce specialty lumber types such as quartersawn white oak or curly maple.

I can also harvest portions of a tree ignored by the commercial mills such as burls, crotches, and spalted material.

As each log is sawn, the boards are carefully numbered so I'll know which log the wood came from and even the order in which the boards were cut from the log. Keeping the boards sequenced allows me to create the highly distinctive look of bookmatched panels. Using log run lumber (boards from the same log/tree) in the same project insures that species such as cherry, which darken over time, retain a similar tone and color.

During the drying process, I can slow the rate at which the wood is dried and yield flatter, more stable lumber for components such as table tops.
You'll see these advantages represented in much of the work found in my portfolio.
Avoiding the Mass-Produced Look
Commercial sawmills cut for the mainstream cabinet industry and high volume production furniture business. This means they avoid species and specific logs that actually tend to yield some of the most figured woods used for high-end custom furniture. These large sawmills rarely take the time to cut certain species of trees in a manner which optimizes the character of the wood grain (quartersawn white oak used in "authentic" high-end Arts & Crafts furniture is the best example). Mainstream furniture builders simply accept cabinet-grade wood, making lower-cost period reproductions in which the heart & soul has been stripped out.
Large scale furniture and cabinet manufacturers are looking for the most homogenous appearance to their wood as they can possibly achieve since their "cookie-cutter" approach demands it. It's remarkable that in a lot of high-end furniture and cabinetry, recent trends have been towards sophisticated glazed finishes and other multi-step coatings that attempt to impart a more unique appearance to the wood, partly to overcome the otherwise boring appearance of commercially produced lumber.
On the other hand, ask someone to recall the details of a striking piece of custom furniture and more times than not, they'll tell you about the figuring in the wood or some other aspect of the raw material that made it memorable. While design, joinery, and finishing technique all contribute to the final success, distinctive furniture makes effective use of wood that has been carefully harvested and selected for it's inherent beauty. By "starting with the log", I've been able to maximize the potential for creating memorable pieces in every project I complete.
Thinking Green - Harvesting the "Urban" Forest
If you live in the suburbs of a growing metropolitan area, you've undoubtedly seen the clear-cut tracts of land that previously contained large numbers of trees. Beyond the actual loss of the greenspace itself is the usual manner in which these trees are processed. The acreage being harvested is either so small (in relative terms) or has the potential for previous use that may have introduced metal into the trees (nails, spikes, fence wire, horseshoes, etc.), so that commercial sawmills have no interest in these trees. As someone who works on a daily basis with an inherently limited natural resource, I'm perpetually forced to reassess the materials that I use and the sources from which they are obtained. In this regard, my sawmill has proven to be an extremely ecologically-minded acquisition.
I acquire logs from pulp mill yards that would otherwise turn quality saw logs into wood pulp. I obtain them from tree service companies that are unable to sell "yard trees" to commercial sawmills. In the tangled aftermath of severe storm damage, I can usually haul away as many trees as I want for free. Each of these sources provides a more ecologically sound way of utilizing this precious and attractive resource. To my pleasant surprise, an increasing number of small scale lumber manufacturers are also taking a look at this urban forest and finding ways of achieving better uses for these trees than pulp wood, firewood, and mulch. I'm proud to say that I've been taking this approach for several years now.
Creating an Instant Family Heirloom
Upon learning that I own/operate a portable sawmill, an ever-growing list of clients as well as woodworking hobbyists have asked me to create lumber and/or furniture from what I like to call "emotionally significant" trees. Whether it is the fallen walnut tree on a grandparent's farm, an old oak tree being removed from the house someone grew up in, or some other variation on this theme, people are trying to salvage a fond personal memory and capture it in a piece of woodwork that can be treasured. The items made from this type of lumber, regardless of how large or small they may be, have an instant "story" behind them and tend to be passed on to a future generation. To be honest, this aspect of sawmill ownership never occurred to me in the beginning. Only after repeated requests for work of this type did I realize that this benefit even existed.
Give Old Wood a New Life
A final benefit of sawmill ownership lies in the ability to reprocess old timbers and siding used in structures built many decades ago. Cutting large timbers into furniture grade lumber is a process known as resawing. While much of this wood has a very rustic look, it yields fantastic looking furniture. I've worked with several clients to reclaim old wood timbers and use it for flooring, furniture, and cabinetry projects. It's rewarding to breathe new life into old growth lumber which lies hidden deep within wood such as this.

Sawmilling Gallery
Below you will find some links to a number of sawmill gallery pages that show how I go about cutting furniture-grade lumber. There are also some truly unique examples of logs and lumber that have been produced from this aspect of my business. Enjoy!!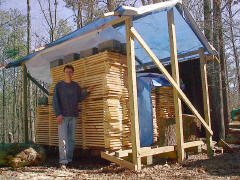 See how the logs are moved, then sawn, and how the lumber is dried.
Look at a series of highly figured ambrosia maple logs being cut.
See some black walnut harvested from the historic Tate House grounds.
Found inside the ugliest of logs is the most attractive wood....
Check out some beautiful black cherry lumber being cut.
The photos won't let you smell this wonderful wood, but it's sure pretty.
Finding new life for wood which is hundreds of years old, hiding inside ugly old timbers!!