| | | |
| --- | --- | --- |
| | Why Choose Me? | |
Once convinced of the benefits of commissioning a custom furniture or cabinetry project, clients choose to retain my services for a variety of important reasons, as presented below:
I utilize only the finest quality materials - you can select from 40+ species of solid lumber and 30+ species of exotic veneers. If the project requires it, I can incorporate other unique media such as custom glass, imported marble, glazed tile, metal components, etc. I can also help you to select from a wide range of finish options for your commissioned piece. I work with traditional film finishes (shellac, lacquer, varnish), hand-rubbed oil finishes (boiled linseed oil and tung oil finishes), and high durability finishes (conversion varnish, precatalyzed lacquer, polyurethane).

To obtain the best quality domestic lumber with consistent grain and color characteristics, I often saw my own lumber from hardwood logs. See the Custom Sawmilling section of this site to see how this approach yields superior custom furniture results.

I work in a variety of styles (from very traditional to ultra-contemporary) and constantly try to expand my repertoire into new furniture/cabinetry designs and forms. I attempt to balance my efforts between reproducing pieces by past masters and developing my own original designs. This ongoing effort should be evident when you review my Portfolio of Work.

During design and construction of solid wood furniture, I'm ever mindful of the fact that wood perpetually expands and contracts due to changes in humidity and temperature. Each piece is engineered to take this movement into consideration. I use traditional joinery methods such as mortise-and-tenon and sliding dovetails to create sturdy pieces intended to last a lifetime. This approach may take longer and cost more than mass-produced furniture, but my uncompromising excellence pays dividends in the long term.

In the old-world tradition of one master craftsman assigned to complete an entire project, I'm the only person who works on your commissioned piece. Whether it be fine furniture or custom cabinetry, I guide the project from design approval, through all stages of construction, then into the spray booth for finishing, and finally to delivery or installation of your project. If a problem or concern arises, the buck stops with me.

Finally, I closely manage my backlog of work, which means that the time required to complete your commissioned project is usually far less than requesting custom work from a large furniture or cabinet manufacturer. More importantly, since I handcraft the work myself, there's no complications involved in ordering a piece from a salesman or designer, who passes the information to some other group that will then build the piece. My business is one-stop shopping.
The Custom Design Process
Although sometimes it's a new experience, clients nearly always find the custom design process to be an enjoyable collaboration. Clients who own custom-tailored clothing, who have special-ordered a luxury vehicle, or who have worked closely with an architect on the design of a home will find this process familiar. In preparation, consider the following questions:
What is the intended function or purpose of the piece?
Do you have any overall dimensions of the piece or size restrictions relating to the space it will occupy?
Does the piece need to match any other furniture or cabinet items that you own?
Do you have preferences for the wood species that will be used?
Have you seen a particular type of finish (glazed, distressed, antiqued, etc.) that you like?
Have you collected any magazine clippings or catalog pages for pieces that you like?
Can you provide photos of the room where the piece will be placed?
Do you have a specific completion timeframe for the project?
What is the budget for this project?
Starting with answers to these questions, we can rapidly converge on a final design that incorporates all the aspects of your "ideal" piece of furniture or cabinetry. Some design efforts may only require simple modifications to existing pieces in my Portfolio of Work and can be completed rapidly. Other projects may necessitate starting with a "blank sheet of paper" and can require several iterative rounds of design and review. In these situations, design charges are assessed, as described in the Pricing page.
The photos below show a good example of the design process in action for a piece of custom furniture. A client needed to have a night stand built, as seen in a magazine ad provided by the customer (photo on the left). Unfortunately, the manufacturer of this table was no longer producing it. In addition, the manufacturer had no ability to do custom work, which presented a problem because the client wanted the table built in walnut, rather than the maple seen in the photo. From the photo provided by the client, a detailed scale drawing was created, as seen in the center photo. The resulting finished project is seen in the right photo.
The process for designing custom cabinetry is very similar, utilizing very sophisticated computer software, and is covered in great detail on the the Cabinet Design page.
During the design process, it may also be very beneficial for you to visit my shop and showroom. This visit gives you a chance to view available species of solid wood and veneers as well as a wide range of possible finishes. In high-end furniture and cabinetry, the wood and finish can contribute as much to the final result as the design and construction elements. Viewing a wide range of materials and sample finish panels allows you to make an informed choice. In addition, the completed pieces seen in my showroom will give you an excellent idea of the workmanship that goes into all my projects.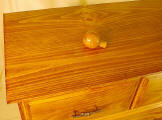 If your project requires a custom finish, sample boards are always prepared and provided for review/approval during the design process. Further, if the finish on the commissioned piece must match other furnishings in your home, I will ask you to temporarily loan me a component from one of your current pieces. A cabinet door, drawer box, chair, or any other small component of your existing furniture or cabinetry can be used at the shop to tailor the finish of your commissioned piece. The photo on the right shows a bedpost knob from a client's bed and the color match created for the commissioned chest of drawers on which it is resting. In some projects, the finish matching process can be postponed until after the construction of piece has been started.
Once all the design details have been finalized, a contract for the project is prepared and provided to you. After signing the contract, I schedule the work and provide updates to you as I begin construction. For details on pricing guidelines, payment schedules, methods of payment, delivery charges, project lead times, and other business topics, please visit the Pricing and Ordering page.
How to Move Forward
If the custom furniture/cabinetry process described above sounds appealing to you, or if you've seen something in my Portfolio of Work that you like, please contact me so that we can begin discussing your specific needs. Thanks!!